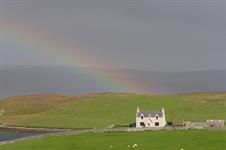 The announcement was made as the government's Department for Business, Energy and Industrial Strategy (BEIS) unveiled its repeatedly delayed Clean Growth Strategy.
It follows yesterday's announcement that up to £557 million (€622.95 million) would be made available for the "next clean electricity auctions for less established renewables", with the next tender to be held in spring 2019.
That auction would be the UK's third renewables tender, following September's auction in which two offshore wind projects were awarded CfD deals at under half the price of contracts awarded in February 2015.
A 2013 report for the UK and Scottish governments concluded that wind projects on the Western Isles, Orkney and Shetland off the coast of Scotland could supply around 3% of the UK's total electricity demand.
Today's announcement means proposed projects on these remote islands would be eligible to bid in the spring 2019 auction.
Secretary of State for Scotland, David Mundell MP said: "Wind projects on the remote islands of Scotland have the potential to generate substantial amounts of electricity for the whole of the UK and I am delighted they will have the opportunity to compete in the next round of contracts for difference."
Other announcements
The government also announced it would work with the offshore wind sector to develop a "sector deal" and set a target of an additional 10GW of capacity to be built in the 2020s "with the opportunity for additional deployment if this is cost effective"
It also said £177 million (€197.48 million) would be made available "to further reduce the cost of renewables", with offshore wind and floating wind projects among technologies being specifically targeted.
Ministers would also work with the Crown Estate and the Crown Estate Scotland – the UK's seabed landlord – to "understand the potential for deployment of offshore wind in the late 2020s and beyond", BEIS announced.
It was also suggested that funding from the £200 million (€223.14 million) Rural Development Plan for England's Growth Programme and Countryside Productivity Offers "could be used to support renewable energy projects, such as solar panels or small wind turbines linked to battery storage".
Business and Energy Secretary Greg Clark said: "This government has put clean growth at the heart of its Industrial Strategy to increase productivity, boost people's earning power and ensure Britain continues to lead the world in efforts to tackle climate change."
Other policies announced in the Clean Growth Strategy included:
setting up a UK Green Finance Taskforce to provide recommendations on investment to "maximise the UK's share of the global green finance market;
investing up to £100 million (€111.57 million) in developing carbon capture usage and storage (CCUS);
investing around £3.6 billion (€4.01 billion) to make around one million homes more energy efficient;
spending £1 billion (€1.11 billion) to aid the take-up of ultra-low emission vehicles as the sale of conventional petrol and diesel cars and vans is ended by 2040;
investing around £841 million in driving low-carbon transport technology (€938.31 million);
phasing out the use of unabated coal to produce electricity by 2025;
delivering new nuclear power through the Hinkley Point C plant in Somerset;
establishing a new network of forests and planting 1,000,000 new trees.
Have you registered with us yet?
Register now to enjoy more articles
and free email bulletins.
Already registered?
Source: Test from Wind Power Monthly