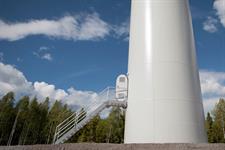 KK Wind Solutions, Vestas, PowerCon and Aalborg University claimed if their energy storage solution accounted for just 8% of a wind project's capacity, it could eliminate nearly 90% of fluctuations in energy production.
The group aims to develop software algorithms to aid monitoring and control of the batteries installed at the base of towers.
Lithium-ion batteries are currently being considered for the project, KK Wind Solutions said.
While energy storage solutions to the inherent variability of power generated by wind turbines do exist, the group argues large-scale implementation is limited by high procurement and maintenance costs.
"The potential for a cost-effective energy storage solution in wind turbines is enormous," KK Wind Solutions' head of global research and development Kristoffer Qvist Nielsen said.
"With such technology, we will be able to make wind turbines an active and constant energy source, which will accelerate the competitiveness of wind energy to new heights." 
The project started only recently and will run for three years, KK Wind Solutions added.
Have you registered with us yet?
Register now to enjoy more articles
and free email bulletins.
Already registered?
Source: Test from Wind Power Monthly